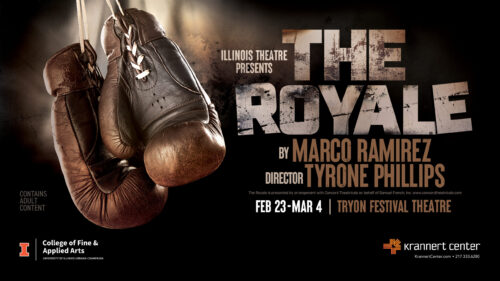 Intro
This week, Illinois Theatre opens their 2022-23 season production of The Royale, by Marco Ramirez, transporting audiences into the boxing rings of 1905. The story follows Jay "The Sport" Jackson, a fictionalized version of the real American boxer Jack Johnson, who became the first Black American to hold the Heavyweight Champion of the World title in the early 1900s.
Tyrone Phillips (BFA '12, Acting) artistic director of Chicago-based theatre company, Definition Theatre, and director of The Royale, is ecstatic to share this story with audiences. "He was the champion and one of the best athletes in our time, but never really got his due because of Jim Crow and other systematic things that were in place at that time. I am excited because I feel like the play itself is an act of antiracism, simply by shedding light on this story."
Johnson's story and legacy came at a time when the country, still struggling deeply with racial relations, was also seeing the relatively new sport of boxing rise to intense popularity. Through Jackson's journey, the show highlights Johnson's immense talent and personality, and explores his internal and external struggles to gain recognition while considering the ramifications of his success.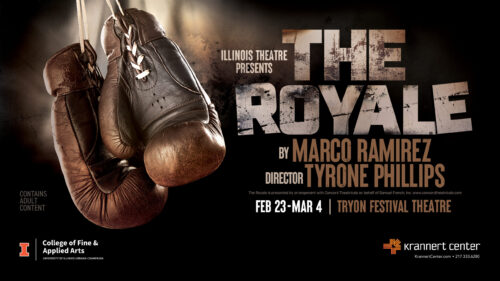 body
In a play about boxing, the script packs some punches, literally. But Ramirez approaches the fight scenes with theatricality and rhythm. "This play inherently has all the values in an art relationship that I like. It's musical," explains Phillips. "There are movement pieces–there are claps written into the script. So, there's already rhythm at play. As a first generation Jamaican American I love music, I love rhythm. Even if a play I'm directing does not have it, I'll put it in. I'll find a way to make sure that our audiences experience that."
In the spirit of musicality, The Royale will play at the Tryon Festival Theatre, a space that is usually reserved for large-scale operas, ballets, and musicals. However, the play features a small 6-person cast and takes place primarily in unglamorous spaces like backstages, bars, and boxing rings of the early 1900s. To justify the space challenges, Phillips worked with his designers and actors to mold the show into a living monument to Jack Johnson and the often hidden histories of Black Americans.
"This story is intimate, but also monumental," reveals Phillips. "Sometimes in a proscenium, the audience can feel separated, like 'that's a nice story but it has nothing to do with me.' With this play, I wanted to make sure that it didn't feel like we're going back in time or releasing the tension or the pressure of having to be active participants. It's part of just doing the work and pushing the needle forward in equity, inclusion, and diversity. You have to be active. There is no inactive, there is no neutral when it comes to those issues. And so, we broke the proscenium wall."
The scenic design team, led by MFA scenic design student Alyssa Thompson, collaborated with Chicago-based visual artist, Nikko Washington, to create an original, larger-than-life portrait for this production. Jackson's dream was to win the championship and have his photo on the front page of the newspaper, something never afforded to Black Americans at the time. The portrait, in a way, acts as a form of reparation.
"Acknowledgement is very big I have found, doing the work," Phillips emphasizes. "By acknowledging some of those missteps, we can begin to repair them. And we all have that in us–to be the best at what we do. It doesn't have to be boxing! What I love about this story too, is that it asks, 'when you are on the front page, what responsibility do you have to your community? To the places that made you who you are?'"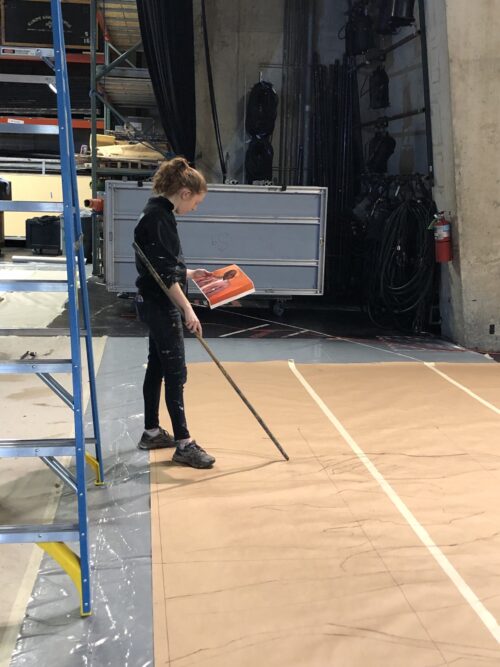 closer
Phillips delights in returning to the places that shaped him as a burgeoning artist, his alma mater, which he considers to be both the University of Illinois Theatre Department, and the walls within Krannert Center.
"This is home. I became an artist within these walls. Whenever I walk into Krannert, and especially when I go downstairs, there is always a moment of full-circleness that happens."
During his senior year as a BFA acting student, Phillips realized that his true artistic calling was directing. He sat down with a group of fellow students to flesh out the mission for a new theatre company, Definition Theatre.
"Definition Theatre actually started in the Armory Free Theatre," Phillips explains. "We did a workshop production of The Brother's Size by Academy Award winning playwright Tarell Alvin McCraney. And at the Armory, it's all student-run production, so we had to figure out what it meant to produce. These spaces were our training grounds."
Phillips has many hopes for audiences who come to experience the show, but the primary goal is to honor Jack Johnson by sharing his story in a way that feels immersive and even contemporary for the audience.
"My hope is that we all take a moment to look at the story of Jack Johnson, see his trials and tribulations, and see how far we've come from 1905 when it comes to race relations, when it comes to being the best at what you do, when it comes to love for your family and community. There's a lot in the story that I think the audience will connect with."
Regardless of which part of the story most affects audiences, Phillips promises, "no matter what, it will be a little epic!"
The Royale by Marco Ramirez opens Thursday February 23 and runs through March 4 at the Tryon Festival Theatre. Tickets can be purchased through the Krannert Center.
Watch the complete interview at Dimension Magazine.