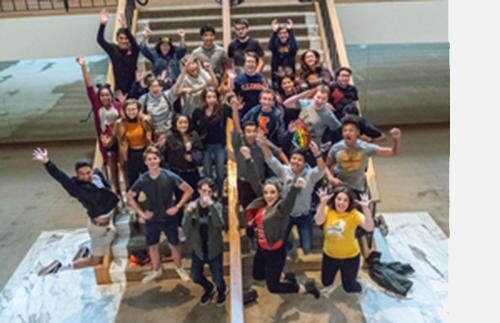 It's a Whole New World
This August, we welcome nine new faculty members to the Department of Theatre. A combination of new lines, restructuring of existing positions, and faculty replacements result in a total faculty of 40. Please welcome Andrea Bouck (Costume Shop Director), José Díaz-Soto (Visiting Assistant Professor of Scenic Design [not pictured]), Richard Gregg (Costume Shop Rentals), Rose Kaczmarowski (Assistant Teaching Professor, Costume Design and Technology), Eric Lin (Associate Technical Director), Allison Moody (Visiting Assistant Professor of Acting—Voice and Speech), Brant Murray (Assistant Teaching Professor, Lighting Design and Technology), Genesee Spridco (Lecturer, Acting—Movement), and Nisi Sturgis (Assistant Professor, Acting—Acting for the Camera [not pictured]).
Illinois Theatre administration is also a celebration of the new and new changes. J.W. Morrissette, now Associate Teaching Professor, will transition from his role as Assistant Head to Associate Head. Cynthia Kocher will be Director of Undergraduate Studies, and Katherine Syer has been named Director of Graduate Studies and Area Chair of Theatre Studies. Lisa Dixon is Interim Area Chair of Acting, and Rob Perry and Terri Ciofalo continue as Co-Directors of Level 21. Thom Miller is BFA Theatre Studies Coordinator.
And of course, we are welcoming new students. We admitted 30 BFA students: 18 in acting, 11 in Level 21, and 1 in theatre studies. Our new graduate students include our three-year MFA acting cohort (10 students), 12 new MFA Level 21 students, and 5 new MA students in theatre studies.