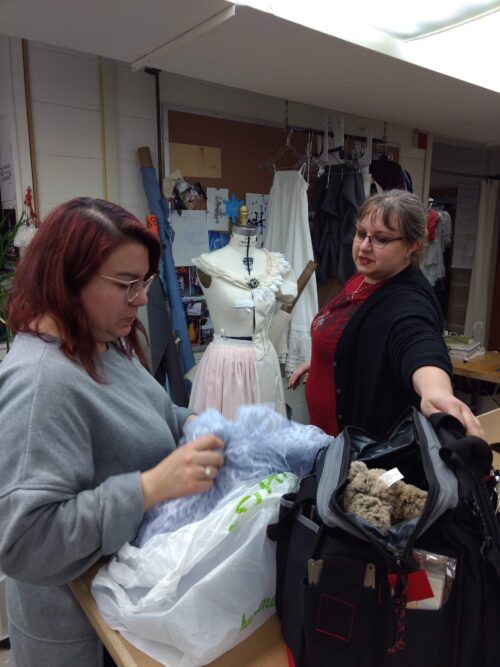 What to expect-
Two tracks, one degree
At the University of Illinois, we strive to train artists who are collaborative, creative, critical, and open-minded. Students seeking an MFA in our program strengthen their collaborative skills by taking design and technology classes together in the first year. These include advanced costume design, introduction to draping & flat patterning, and figure drawing for theatre. Students can enter the program confidently knowing they wish to strengthen their design or technology portfolio, or enter without declaring a specific track.
Core Values
The Costume Program is committed to providing individualized education combining traditional and innovative methods in the areas of design and technology. We are devoted to training leaders in the global theatre community with a vision of the world that is conscious of every voice and environment.
We acknowledge the current global climate crisis and understand that targeted action is urgent.  As creators and storytellers, our choices and processes directly and profoundly impact problems of environmental degradation as well as the social ills which accompany them. Discussion and ongoing development of best practices are essential components of our program.
Developing a Pathway
Seeking an MFA in costume design or costume technology is rigorous, comprehensive and challenging. During the first semester jury, students confirm and specify the design or technology track. Once that foundational semester is set, students pursue carefully integrated coursework unique to their interests in consultation with an academic advisor. Both specializations consistently require deep research and critical analysis.
Design student trajectories include but are not limited to critical play analysis, costume history, costume dramaturgy, and directing.
Technology students choose from a suite of construction courses including but not limited to draping, tailoring, costume shop management, and technology in crafts.
Production Pathways
The knowledge gained in classroom spaces is augmented and enhanced by our production assignments. Our goal is to build strong student led teams capable of creative, dynamic, healthy communication with deadline driven organizational processes.
All first-year students will be assistant designers and wardrobe supervisors.
In subsequent years, it is our goal to assign design students a minimum of two mainstage productions while in residence, one small to medium size contemporary show and one large-scale opera or musical. The work of a design process occurs one semester in advance of the semester set to move a design through the Krannert costume shop. Designers must exercise generative and professional communication between themselves, directors, peer design collaborators, the costume director, costume shop staff, and their production team. The University of Illinois provides opportunities to calibrate best practices with all of these interested parties.
Our goal for technology students, in subsequent years, is to be assigned as a crafts head, draper, costume shop manager, or variation thereof on one production every semester. Whether design or technology, production responsibilities will increase and provide variety over the course of the residency. MFA students play a key role in mentoring our BFA cohort while working on productions together.
Thesis
The MFA: Costume Design or Costume Technology thesis project is a substantial research project resulting in either a realized garment, production, or installation. This research thesis requires the student to choose a topic of substantial value and scope. The student is responsible for all the planning, researching, experimentation, and documentation required of the Thesis. Their advisor and committee will officially accept the topic at the end of the 4th semester of study. In the final semester of study, the student will formally present the work with comprehensive documentation of the research through completion process.
People and Spaces
With five faculty members, four Krannert costume shop staff, and a variety of BFA students, the MFA Costume Program is nested in an educational environment set to mirror the professional world. Every MFA candidate in Costume Design and Costume Technology must be in residence for six semesters. Upon acceptance of an application, a candidate will be awarded and expected to maintain an assistantship, which includes a tuition waiver and stipend. Assistantships given support of the Krannert costume shop, Krannert wig and makeup studio, Dance at Illinois, and Krannert costume rentals.
Work while in residence revolves around spaces within the Krannert Center and in partnership with departments across campus. The Krannert costume shop features millinery, dyeing, and leather-working facilities. The CU Community Fablab features 3-D printers, laser cutters, and electronics programming platforms. The School of Art & Design features screen printing facilities, virtual reality and other digital fashion illustration platforms. Back in Krannert Center, the wig and makeup studio supports theatre, opera, and dance productions by providing wig styling and ventilation, facial hair creations, and prosthetics as needed.
See the Future
Graduates of our MFA Program go on to work in a variety of performing arts industries as designers, costume shop managers, drapers, crafts artisans, illustrators, and assistant designers.
If you would like information that is more detailed please contact Olga Maslova or Rose Kaczmarowski.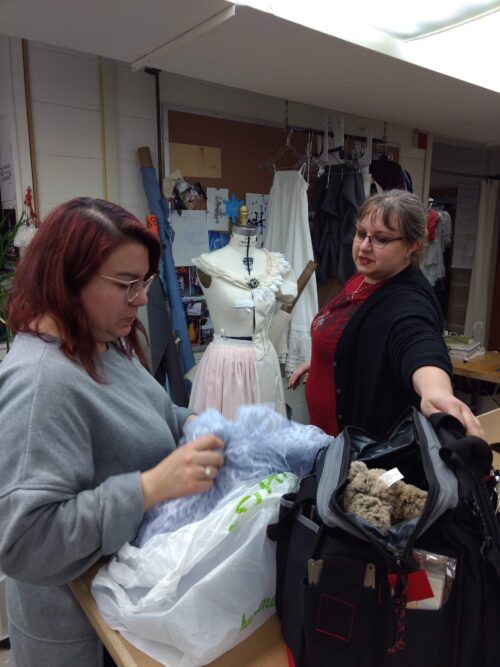 Learn How to Apply