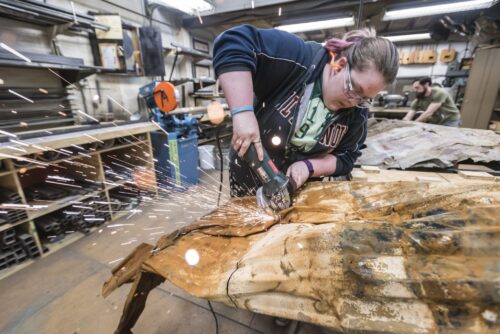 What to expect-
he program provides a strong theoretical background with significant production experiences.  Students are exposed to current materials, methods and techniques in automation technology, engineering, computers, and management.  Furthermore, students will participate in research and the development of innovative production techniques including the integration of advanced technologies into theatrical production.
Curriculum
The Scenic Technology program features a rigorous and successive core curriculum with areas of advanced study for flexibility and further exploration.  These foundational skills and courses include:
Technical Direction I and II
Basic to advanced uses of AutoCAD for Theatrical drafting
Structures for the Stage I and II
Metalworking and Welding
Electric Motors and Fluid Power
Automation for the StageHistory of Décor
Scenic Painting
These core competences will be practiced and demonstrated during classroom learning while being further explored and honed in the practical applications of the production process. Students will be able to tailor their degree with advanced areas of study as they progress through the program.  We recognize there is a broad range of career paths available to our students including:  regional theatre TD, commercial scene shop project or production management, theatre equipment supplier or manufacturer, academic TD, production manager, or theatre consultants.  By fulfilling these core requirements and allowing flexibility through additional courses, independent studies, and thesis project work, our students are prepared to take on the vast roles in live performance and related industries.  These advanced courses include:
Autodesk Inventor
Shop Practice
Entertainment Rigging
Advanced Metalworking
Courses in Theatre design areas
Courses in Lighting or Sound Technology
Properties Design and Management
Advanced Properties
Courses outside the theatre department
Production
The performance spaces at Krannert Center for the Performing Arts serve as labs for all theatre students.  The expansive facilities of Krannert Center offer a unique partnership between the Illinois Theatre, Dance at Illinois, and the School of Music Opera and Lyric Theatre Programs. Students will gain experience working on theatre, musical theatre, opera and dance productions.  The Technical Director assignments put the student in charge of the execution of all scenic elements for a production.  Just like the progression of coursework, the students are given the opportunity to progress through the production process.  Students will be assigned positions for a variety of increasingly more challenging productions.  Assignments will allow the students to take on leadership roles while working collaboratively with the other production areas.  This experience allows the students to test theoretical classroom knowledge in practical applications.
Thesis
Students can choose between a production, an extensive project, or a research based thesis.  A production thesis will include a comprehensive written analysis of the production process, a full set of technical drawings and a production book containing a portfolio quality record of the process.  An extensive project thesis will culminate in the research, study, and creation of an actual physical object based on the subject interest. A research thesis will allow a student to define, execute and document a topic of research that is related to their specific professional interests.
Faculty and Staff
Our students have the advantage of working side-by-side with professional faculty and staff in an environment that fosters creativity, individuality, and excellence.  Students will receive highly individualized instruction and mentorship from a diverse group of faculty and staff in the Krannert Center at large.  Collaboration with the professional staff and producers for the departments of Theatre, Dance, Lyric Theatre, and Krannert Center provides a unique opportunity for educational and creative development.
Graduation Outcomes
The possibilities are endless for students with degrees in Scenic Technology.  Technical Direction is about creative problem solving and communication – vital skills in any industry.  Students also learn to research, plan, schedule, and develop strong leadership and management skills.  We are training not just strong theatrical technicians, but developing invaluable skills for working professionals everywhere.  When our students graduate they have a portfolio of realized work that prepares them to enter and be successful as leaders and innovators in the profession.  Our students go on to work in a wide variety of positions at regional theatres, touring companies, commercial scene and production shops, theatrical suppliers, event companies and in allied fields such as architecture, film, and television.
MFA Scenic Technology Curriculum
For more information about the Scenic Technology program visit: Scenic Technology @ Illinois
For more information contact Ryan Schultz at ryans@illinois.edu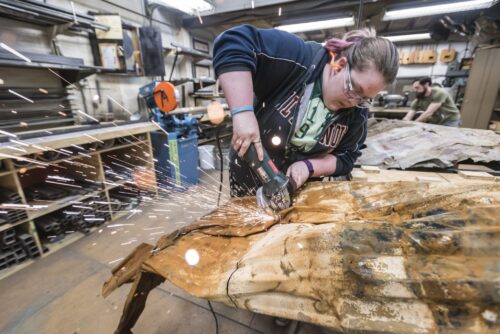 Learn How to Apply