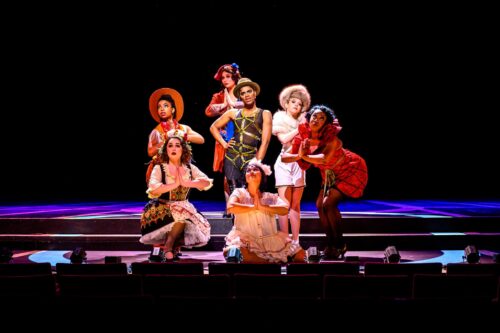 What to expect-
We believe the work of telling story through costume is integrated and collaborative. A designer's vision shapes the work of a technician and a strong technician is able to exquisitely execute the designer's vision at high levels of integrity. Students seeking a BFA in costuming as undergraduates will experience training providing proficiency in both design and technology, setting a strong foundation for early career opportunities.
Core Values
The Costume Program is committed to providing individualized education combining traditional and innovative methods in the areas of design and technology. We are devoted to training leaders in the global theatre community with a vision of the world that is conscious of every voice and environment. Expect to engage collaboratively, creatively, critically, and with an open mind.
We acknowledge the current global climate crisis and understand that targeted action is urgent.  As creators and storytellers, our choices and processes directly and profoundly impact problems of environmental degradation as well as the social ills which accompany them. Discussion and ongoing development of best practices are essential components of our program.
Developing a Pathway
The BFA degree pathway provides a solid foundation in theatre studies and applied design and construction. Coursework includes exposure to the principles of design across collaborative fields via introductory classes in costume, scenic, and lighting design, thus providing a robust vocabulary of understanding during any design process. Students will also take figure drawing and costume rendering classes in addition to a fleet of costume construction classes. Construction classes include but are not limited to draping & flat patterning, crafts, and technology in crafts.
The knowledge gained in classroom spaces is augmented and enhanced by our production assignments. In the first two years a student will work in the Krannert costume shop, be a dresser on a wardrobe crew(s), and learn about maintaining and organizing costume stock via practicum(s) with Krannert costume rentals. In subsequent years students will advance in these areas and become an assistant designer on a production. Responsibility will increase to include costume crafts, wardrobe supervisor, and specific costume construction projects. Senior students may undertake a design assignment and serve as a primary designer for a mainstage production.
People and Spaces
With six faculty members, four Krannert costume shop staff, and an MFA cohort of ten to twelve, the BFA Costume Design + Technology Program is nested in an educational environment set to mirror the professional world. Support for individualized learning over the course of the degree revolves around the spaces within the Krannert Center and in partnership with departments across campus. The Krannert costume shop features millinery, dyeing, and leather-working facilities. The CU Community Fablab features 3-D printers, laser cutters, and electronics programming platforms. Back in Krannert Center, the wig and makeup studio supports theatre, opera, and dance productions by providing wig styling and ventilation, facial hair creations, and prosthetics as needed.
See the Future
Graduates of our BFA Costume Design & Technology program go on to work in a variety of performing arts industries as wardrobe supervisors, dressers, crafts artisans, stitchers, first hands, and assistant designers.
Here is a Sample BFA Progression for your perusal.
If you would like more detailed information, please contact: Rose Kaczmarowski at rosekacz@illinois.edu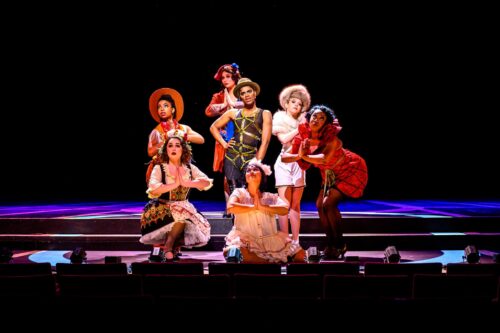 Learn How to Apply