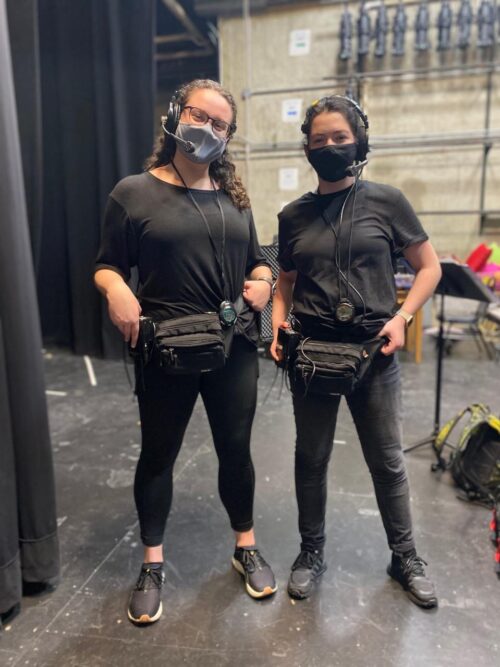 What to expect-
Our program strives to provide a creative and dynamic production environment that sets a high standard in developing communication and technical skills. Students can expect to have guided and progressive learning throughout their academic careers at UIUC. Graduates of the Stage Management Program are flexible, confident, people-oriented managers who are ready to enter the professional world equipped with the skills and industry knowledge essential to a successful career in the arts.
Creating Leaders
The foundations of strong stage management lie in the basics of good leadership. Stage management classes focus on developing skills in problem solving, collaboration and team management while addressing topics specific to the work of the professional stage manager. Course work is designed to challenge students to develop skills in production analysis, writing, presentation and computer proficiency. Classes in design, history and technology round out a vigorous theatre curriculum. In addition, visiting artists from Krannert Center for the Performing Arts often guest lecture which allows students to interact with working production managers, stage managers, company managers, producers, directors and performers in a casual seminar environment. Principles and techniques encountered in the classroom are fully explored through hands-on work as stage managers and assistant stage managers during a season of over a dozen main-stage and studio productions.
The Theatre as Laboratory
The performance spaces at Krannert Center for the Performing Arts are the labs for all theatre students. The expansive facilities of Krannert Center offer a unique partnership between the Illinois Theatre, Dance at Illinois, and the School of Music Opera and Lyric Theatre Programs. Students gain experience working as stage managers in theatre, musical theatre, opera and dance productions – side by side with experienced professionals, seasoned faculty and other talented students. This immersion into the major genres of the performing arts along with the partnership of Krannert Center creates a vibrant educational environment exceptionally suited to training versatile, flexible and well-rounded stage managers.
On the Edge of the Extraordinary
Students also have the opportunity to work as stage managers and production coordinators on a variety of new works produced by Krannert Center, collaborating with cutting-edge artists including The Builders Association, the Bebe Miller Dance Company, Mikel Rouse and Ralph Lemon. Nationally, these artists are redefining theatrical expectation and reinventing traditional storytelling – and Krannert Center is a leader in producing these new voices of contemporary theatre. Stage management students can work in a variety of capacities on these projects, gaining hands-on experience with integrated video, audio and lighting technology as well as being collaborative partners in the creation of new work.
The Next Step . . .
Our alumni have taken the experiences they gained in theatre, musical theatre, opera, dance and event stage management while at the University of Illinois and have gone on to have exciting careers in the performing arts. Illinois Theatre Stage Management Alumni can be found working on Broadway, Off Broadway and in regional theatre, opera and dance companies around the country. Additionally, some have chosen to work in film and television production, live events and at colleges and universities as teachers and production managers. Below is just a sample of where some of our recent alumni can be found.
On Broadway: Betrayal, Peter and the Starcatcher, Annie, On Your Feet, Aladdin, The Audience, Mary Poppins, Wicked, Mamma Mia!
Regional Theatre: The Public Theater (NYC), Roundabout Theatre Company (NYC), New York City Center Encores!, Eugene O'Neill Theater Center, First Folio in Chicago, Creede Repertory Theatre, Great River Shakespeare Festival, Colorado Shakespeare Festival, Arkansas Shakespeare Festival, Illinois Shakespeare Festival, Uptown Players (Texas), Theater at Monmouth 
Opera: Cincinnati Opera, Boston Lyric Opera, Minnesota Opera, Florida Grand Opera, Piedmont Opera, Santa Fe Opera, Nickel City Opera
Teaching/Staff Positions at Colleges/Universities: Otterbein University, Brigham Young University, University of Wisconsin-Madison, University of Florida
On Tour with Professional Artists: Mikel Rouse, Ralph Lemon, Karole Armitage, Bebe Miller
Major Dance Companies: Alonzo Lines Ballet in California, Cedar Lake Contemporary Ballet in NYC
BFA Stage Management Curriculum
For more information contact Cynthia Kocher at ckocher@illinois.edu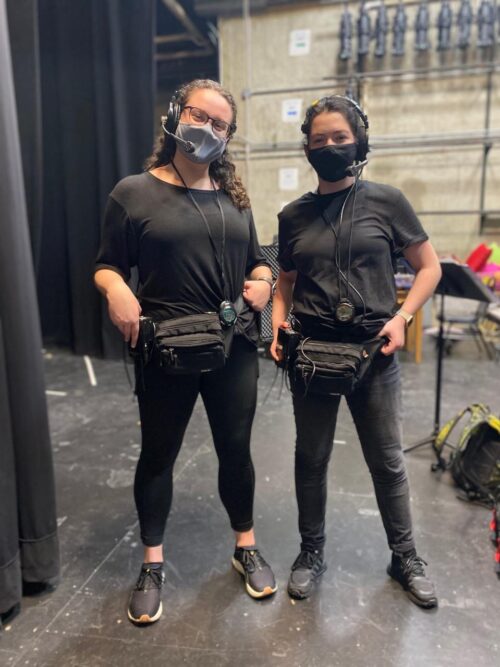 Learn How to Apply