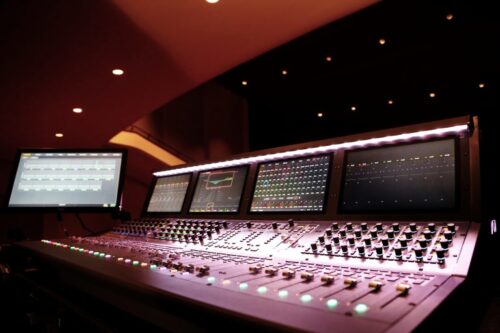 What to expect-
Through our program, our students will gain a true mentorship experience that combines classroom lectures, training, and numerous hands-on practical opportunities. Within each of our venues, students will work on resident producer shows including theatre, dance and the newly created Lyric Theatre program in opera. Students will also be immersed in a rich production environment with opportunities to work side by side with peers, faculty, guest directors, national and international engineers and designers.
As faculty, we see sound design as the pinnacle of audio vocations and the accumulation of all audio disciplines. We bring to our students' current knowledge of the art of sound design, equipment standards and trends within our industry. In the classroom, students will gain knowledge in analog and digital sound systems and production techniques, live sound reinforcement, recording technology, script analysis, cueing techniques/software, troubleshooting, problem-solving, music/effect creation and most importantly designer collaboration.
Venues and Laboratories
In addition to our venues, students will work in three professionally- equipped audio suites. The Playhouse Editing Suite offers voiceover capabilities, sound effect creation, and composition functionality. The Festival Editing Suite is a multi- channel editing space, allowing the students to explore spatialization techniques in preparation to move their designs into the theatres. The Mix/Mastering Studio is a full- featured suite of audio tools including those used in recording, multichannel mixing, creation, and processing.
Within the Krannert Center, students will work in all of its 5 spaces.  The 979-seat Tryon Festival Theatre is a proscenium space with balcony.  Designing in this venue is highly flexible to allow producing work in a myriad of configurations for amplified acts, large Broadway-style musicals, and passively reinforced operas. The 678-seat Colwell Playhouse Theatre is also a proscenium space, but has no balcony, and was designed for spoken word performance.  It is used as the main space for Illinois Theatre productions as well as many of the dance concerts and Marquee events.  The recent installation of a new 127 loudspeaker immersive sound system allows sound designers free to imagine and realize any design configuration in this space to fit the needs of the production.  The Studio Theatre is our black box space.  It is a highly modular space with seating locations changing on a per show basis.  The theatre has a full grid over the space allowing speakers to be placed nearly anywhere.  Students will also get to work in the renowned Foellinger Great Hall.  The hall is a 2066 seat concert hall and serves acts ranging from symphonies to Bands to world music acts to dance pieces.
The Bachelor of Fine Arts Program
Students may concentrate in sound design and technology as they work toward a BFA in theatre. Students have many opportunities to work in theatrical design for theatre, lyric opera and dance for the Resident Productions. In addition, students can work on the Marquee Events series for the Krannert Center as engineers for touring shows. This provides a solid audio foundation for our undergraduates giving them the experience and know-how to go out and succeed in the workplace immediately upon graduation.
Whether you are an MFA or BFA student you will get to work in various positions including: Lead designer, assistant designer, show engineer, sound board operator, front of house engineer/mixer, monitor engineer, and deck/stage engineer.
For further information about any of our sound design programs please contact:
Richard Scholwin, KCPA Director of Audio Service scholwin@illinois.edu
Alec LaBau, KCPA Assistant Director of Audio Services alabau@illinois.edu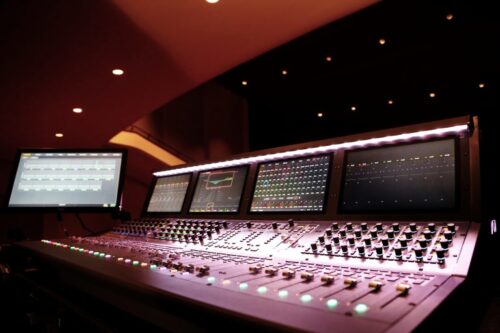 Learn How to Apply