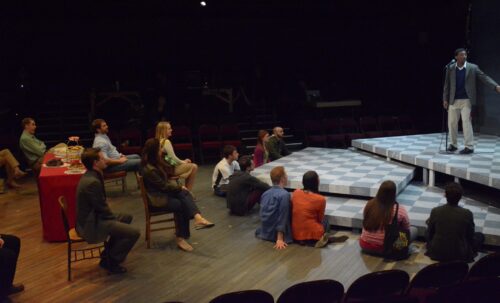 What to Expect-
Students are required to take a core of 10 required hours in courses that prepare them academically to understand the theoretic and historical basis of the art. They then take a minimum of six hours of electives in two general areas (History/Criticism and Production/Performance) with at least one course from each area. This ensures that every theatre minor has not only some choice of specialization, but also a breadth of knowledge required of all theatre professionals.
A minor in Theatre requires a minimum of 16 hours in theatre courses. It must include 10 hours of core courses, plus a minimum of 6 hours of elective courses. A minimum of one elective course must be from the History/Criticism category and one course must be from the Production/Performance category. To be complete there must be a total of 16 course hours. It is possible that you may take more than 16 hours in Theatre courses if you so desire. Additional hours may come from exploring other elective possibilities but you must have at least 16 hours of the required minor in Theatre courses (listed below) to successfully complete the minor.
Students must officially declare the minor with their college after completing 30 hours of coursework (usually after the freshman year). The minor declaration process varies from college to college and it is up to the student to discuss with their advisor what their particular process entails. Upon completion of meeting with their advisor students may then fill out a Statement of Intent form with the Theatre advisor and return it to the student's college.
IMPORTANT NOTE: Please understand that theatre minors are not given priority registration for theatre courses and it may be difficult to complete a theatre minor on this campus without adequate planning and forethought. All minors are encouraged to meet regularly with a theatre department advisor.
Admission to the Minor:
Admission will be by formal letter of intent submitted to the minor advisor. Students must be in good standing at the University of Illinois and demonstrate a clear interest in the study of theatre as both an art and an academic discipline. Students will then need to take completed minor forms (click here for downloadable form) to their college to get the minor added to their academic record. The Theatre Minor Advisors will need to sign the minor form before they take it to their college.
Minor Advisor:
All minors will be advised by Asst. Head for Academic Programs – J.W. Morrissette (jwmorris@illinois.edu) according to the requirements below.
Intent to Pursue a Minor Form:
The required form to officially declare a minor can be found by following this link: INTENT TO PURSUE A MINOR FORM. Please note that the form must be signed by the Theatre Minor Advisor as well as the Academic Advisor in the student's home college.
The following link is the LIST OF THEATRE MINOR ELECTIVES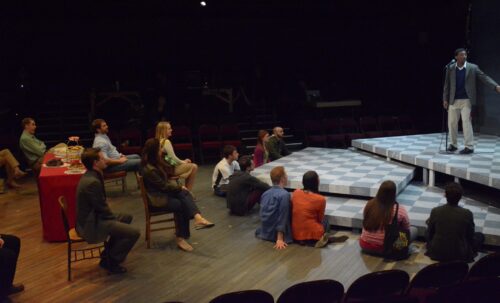 Minor Requirements
| HOURS | REQUIREMENTS |
| --- | --- |
| 1 | THEA 100- PRACTICUM |
| 3 | THEA 101- INTRODUCTION TO THEATRE ARTS |
| 3 | THEA 208- DRAMATIC ANALYSIS |
| 3 | Choose 3 credits of THEATRE HISTORY ELECTIVES - THEA 304- WORLD THEATRE -THEA 364- TOPICS IN THEATRE HISTORY |
| 6 | Choose 6 credits from the List of Theatre Minor Electives with a minimum of one (1) course from History/Criticism and one (1) course from Production/Performance (list of Electives is linked above this table) |
| 16 | TOTAL HOURS FOR MINOR |