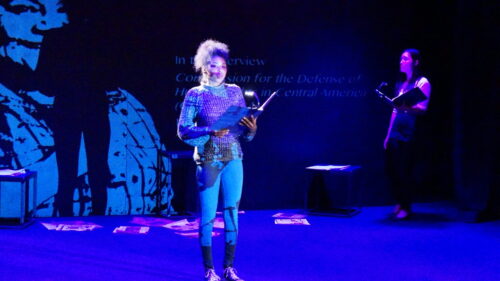 What to expect-
Recognizing the event of live theatre as a rare and non-trivial dynamic juncture in a social space occupied not only by people but also by possibility, INNER VOICES Social Issues Theatre commits itself to the cultivation of this social space for rich civic dialogue vital to the wellness of community.
We insist that theatre ask radically effective questions.
With an eye on civic engagement and social justice, we concern ourselves with where and how change might be made.
The program provides an opportunity for students to be actively engaged in creating, originating and performing social issues theatre through the student driven INNER VOICES Social Issues Theatre ensemble and through other courses which students may take for academic credit.
All of our classes are taught by practitioners in the field and we often host international guest artists as part of our programming.
We value culture production with an eye on, and challenge to, unquestioned cultural consumption.
INNER VOICES Social Issues Theatre is sponsored by the Counseling Center and Illinois Theatre at the University of Illinois Urbana – Champaign.
Learn more: https://counselingcenter.illinois.edu/inner-voices 
Contact: Lisa Fay lfay@illinois.edu  | Program Coordinator and Ensemble Director |INNER VOICES Social Issues Theatre program